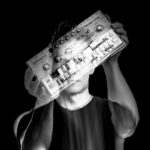 "I don ́t care about musical genres – music has to be emotional."
Kai is a German producer, DJ and songwriter, known since the mid-'90s for pioneering the combination of Trance and Acid.
According to 100tracklist, his Cooperation DT64 was the most played techno track of 2020 and the best-selling techno track of 2020 @beatport.
"Freedom of expression", 303 State and "Wrong or Right" are follow-ups, wich all entered the Top3 Beatport Techno Charts and were played over 13 million times on Spotify.
His sound is always straight forward and essential, often using the Roland TB 303 to produce hypnotic ACID odysseys combined with a strong emotional melody part. Beginning of the early 90s, the self-taught musician worked for Frank Farian, with whom he learned a lot about mixing and producing. Platinum- and Gold-Records were the result.
Kai Tracid had his national breakthrough in 1997 with his first single Your Own Reality. His international breakthrough came the following year with the release of the song Liquid Skies. Both tracks later appeared on the debut album Skywalker 1999.
Songs from Tracid's second artist album Trance & Acid are still played worldwide by renowned A-list Techno DJ's.
Armed with a fine ear for both underground and festival Sounds, his DJ skills saw him performing at some of the world's top-event venues such as Timewarp, Mayday, Tomorrowland, Parookaville, Creamfields, EDC and Dreamstate.