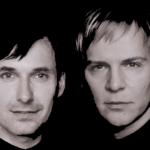 Kyau & Albert is the working name for two trance music producers and DJs from Germany named Ralph Kyau and Steven Moebius Albert.
They were formerly known as Kyau vs. Albert but changed their working name to Kyau & Albert in 2006.
Ralph Kyau had his first experience with the production of electronic music in 1990 and gained a reputation for DJing as well as Live PA sets at several underground techno parties in Germany before releasing his first record "Modulation Experiments" at the end of 1993.
Together with DJ Shandy he founded the label Harmony Recordings in 1993 and they signed the massive Mirco de Govia as their first act. At the same time, Steven Moebius Albert began to produce his own tracks and in the summer of 1994, Ralph and Steven met for the first time.
They produced their first tracks together for a live performance, realized that they have a common perception of music, and decided to try their hands at producing together. The result was their first single "Let me in" released in 1996.
From then on they became known under the artist name of Kyau vs Albert. Their two small studios merged and they founded a music production company "Euphonic" in 1997, signing Sonorous aka Rough Mullar as well as Ronski Speed. With such a strong backing of producers, the team began pushing for their sound to be heard.
In 2000, the guise of Kyau vs Albert became recognized by WEA (part of Warner Music) and a long term contract was put together, forming the start of their journey into dance music, with huge support from DJs such as Paul van Dyk, KayCee, Tiësto and many others.
In 2002, Sun Decade (one of Ronski Speed aliases) shined on the Euphonic label with the massive "I'm Alone". The track blew the roof off many house and clubs around the world with its soaring vocals and superb productions, putting Kyau & Albert and their Euphonic Label at the top of the list in the industry.
To celebrate 15 years in the industry Kyau & Albert released the album '15 Years' In March 2012, an album of their best tracks remixed by a carefully selected group of contemporary trance artists as well as some of their brand new material.
The duo featured in the annual DJ Magazine Top 100 DJs poll for four consecutive years (2007-2010).
2016 became a very special year for Kyau & Albert : Ralph and Steven celebrated their 20 years together in the business. A special "20 years K&A mix album" was released with all their big hits in stunning new remixes and reworks. The 20 years Kyau & Albert tour brought them with more than 65 gigs to many clubs and cities all around the world!
Not getting tired after this anniversary Kyau & Albert released their 5th full artist album "Matching Stories" in summer 2017. This album features the hitsingles "Memory Lane" and "Mein Herz".
Gigwise a dream for Kyau & Albert came true when they played first time in France doing an open to close set on a boat on the Seine river!
Their radio show "Euphonic Sessions with Kyau & Albert" is syndictaed on 20+ FM stations around the globe and has now over 27.000 podcast subscribers on iTunes. Podcast Euphonic Sessions – Kyau & Albert