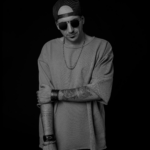 MR.BLACK is one of the brightest stars of the contemporary industry. The charisma and talent of the Israeli artist have caught the attention not only of his massive fanbase but also of many other big names in the music scene such as Hardwell, KSHMR or Tiësto. Relaxed yet extremely focused, he has already conquered an extensive list of musical epicenters like the U.S, China, or Brazil. There are no geographical barriers to MR.BLACK's energy. He is making his way to every corner of the globe, entertaining excites crowds that flock out just to see him.
Renowned for his exceptional ability to create club filling dance anthems, the hotly tipped producer has become one of the most sought-after names in the field. MR.BLACK has undoubtedly earned his place amongst dance music royalty, particularly on Israel's electronic music scene.
Over the years, MR.BLACK has matured an impressive discography, which reflects the artist's influences, experiences and eclectic facet. His explosive music has been dazzling fans for a long time, proving that indifference is a feeling alien to his work. The Israeli prodigy is constant in his art of delivering chart-topping remixes and stand-out releases. From his previous hot tunes, the highlight goes to his collaboration with KSHMR 'Doonka', and his iconic remix of Tiësto's hit 'BOOM', the first hybrid psy/big room record ever released on Musical Freedom.
No stranger to worldwide success, MR.BLACK gained notoriety from performing and touring at some of the biggest venues and festivals around the world. On renowned festival stages such as Tomorrowland and Life In Color, he performed next to the likes of David Guetta, Tiësto, Avicii, Hardwell, Dimitri Vegas & Like Mike and many more.
Pioneering and ingenious, MR.BLACK led the hybrid movement as a key artist on Hardwell's Revealed Recordings. There, in his own name, he dropped over a dozen of releases that impacted the industry.
Facing the challenging year 2020, the energetic artist did not lower his arms and kept growing. In an ambitious production, MR.BLACK performed a Virtual World Tour that united about 30 countries and one million people in a collective dance to his uplifting sound. The year was also marked by the power hit 'Mucho Bien' in partnership with his compatriot Offer Nissim. The single delivered an infusion of Hispanic sensuality with his typical blistering rhythm, reaching millions of streams worldwide.
MR.BLACK enters 2021 sliding, spreading powerful releases. Focused on reaching new milestones in the dance music industry, he reinvents himself and presents a new imprint/alias with Revealed Recordings. HYBIT is the new identity of the Israeli DJ and music producer that exposes his multifaceted and groundbreaking side, capable of expanding the sound of the musical genres he dominates. Inspired by the Asian market, it is hybrid, innovative and experimental, shaping a new concept that unfolds between psytrance and big room, but in a unique dimension. HYBIT and MR.BLACK do not overlap or compete, they work together, complementing and challenging each other. Under the HYBIT umbrella, were already born some electrifying singles like 'Konnichiwa', 'Take Control' and 'We Are One'.
With no intention of pulling the brake, MR.BLACK will continue to surprise us with his particular and ecstatic interpretation of dance music.