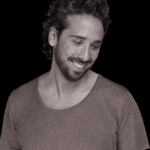 Cristian Varela celebrates 25 years of his career. Cristian plays a very important roll in the history of electronic music in Spain, being an indispensable part in the construction of the national industry of dance music and one of Spain's pioneer international artists. The artist from Madrid writes in first person some of the most significant pages of this evolution, becoming a pioneer in diverse aspects, which today make up the roadmap of this profession. These aspects were the first Live sets, 4 turntable set ups, major events and festivals and the creation of a Techno label with a huge international repercussion. His advanced vision turned him into one of the main leaders of the professionalization of the Spanish scene. Pornographic Recordings, Phrenetic Society, Electrosonic Festival and Manita are just a few examples of his innovative proposals and creations.
Far from comfortable, Cristian has always remained faithful to his career as a multidisciplinary entrepreneur, and to date continues to surprise year after year with new and exciting ideas. VARELIVE debuted in 2015, a twist in live electronic music, in real time, with the freedom to create and using Emulator technology. Cristian has always taken interest in the environment and he has been involved in various awareness campaigns and solidarity actions. Recent campaigns that stand out are the Fundación de Ayuda contra la Drogación (FAD) campaign, conducted by Dirección General de Tráfico (DGT) which won the Onda Cero Road Safety Awards 2015, parties that support the Red Cross, and his current project, "Varela Concept", a collection of 12 tracks looking to raise awareness about problems of the planet and the environment, in order to raise funds for this good cause and taking the opportunity to unleash his role as a symphonic composer. It is this facet of his talent that is the most rewarding, being a soundtrack composer for films, theatre, adverts and shows since 1986. He also recorded a symphonic album at the legendary Abbey Road studios, where he counted on the participation of the best musicians known. His last public performances have been during the catwalks of the famous designer of the Spanish Royal Family, Felipe Varela, who he composed music for and also played live at his events.
During all of these years, Cristian Varela has been able to find the perfect balance between his projects in the studio and life as an international Dj. His shows continue traveling the globe to the biggest clubs and festivals of every country and continent. His charisma has earned the unconditional support of Carl Cox, a legend of the Techno scene that has counted on him year after year at his main events. He has performed at the most important festivals in the world, such as Ultra Music Festival Miami, Awakenings, Tomorrowland, Exit, I Love Techno and Creamfields, amongst many others. Media all around the world are constantly paying their attention to his music, his sets and his projects. That is why his Radio Show broadcasts on 100 stations in 30 different countries.
His inexhaustible creativity in the studio makes him one of the most prolific Spanish artists in electronic music, with more than 160 references on major labels such as Sony / BMG, Plus8 / Additive, Intec, Primate UK, Toolroom or Bedrock… His restless character and self capacity have made him become one of the few Beta Testers for brands such as Pioneer or Roland, who rely on his advanced judgment and knowledge that is also seen in classes and tutorials he has taught since 1996 at major schools and professional events such as Sónar+D, Eumes, Universidad Complutense de Madrid or CEV, amongst many others, actively engaging in the discovery and training of young talents.
Throughout these 25 years, Cristian Varela has been awarded with more than 40 prizes by the main media of the music industry. In Spain he treasures dozens of awards designating him as best DJ of the country. He also received at the International DJ Awards, Best Techno DJ in 2007 and 2013, the only Spanish artist to receive these honours, naming him the ambassador of Spanish Techno, an artist who shines his own light in every corner of the planet.