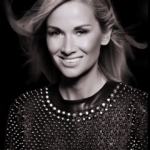 We came to a point that nobody have time to read a proper presentation like few years ago, when biographies were the only serious document, from which we had a chance to know most important things about the artist / DJ / producer.
Facebook and Twitter era changed a lot the industry, but the fact is, we still need some kind of written presentation, so fans and music lovers can maybe print out and stick it to their wall 😉
Now days it's really easy to "judge" and at the same time to "love" artists work.. following few direct links, checking his or her social networks and all this can be saved as favourite, so you have always a fast access.
But don't forget.. what you see now, it's few hours old.. that's how fast we live our life.
If you'd like to get few more details, something older than just few hours, you need to read a biography.
LUCCA is an artist with rich and famous background. Started as a local house name and turned into worldwide traveling DJ. Not many females decided to become a professional DJ back in 2002, but Lucca felt, this is her mission and this is something she would like to do in her life. Coming from Czech Republic where she already achieved a title of "best known Czech DJ", she will celebrate her 10th anniversary of professional career, next year.
Speaking about gigs and performances..
Would take some time to name all the artists she had a chance to work with in all these years and to count down all clubs and venues she performed. Maybe to mention, receiving invite every summer from Carl Cox to be a part of his resident nights at Space, Ibiza is something she is really proud of.
Speaking about tracks and remixes..
Lucca's discography is quite extensive as well. From releases on his own label Sound Of Acapulco, remixes for important names in the business, collaborations with live musicians and of course her artist album Reformation from 2008. Not to miss mentioning remix for Intec Digital, single release on BluFin and MTV appearance with her video "Japan Sugar".
Speaking about being parent..
Not only that she is a well known DJ, but she is as well family person, proud parent of young Michal, her every day star 😉 There is for sure a big change once a weekend traveling performer become a parent, but like Lucca already said.. "it's all about loving what you do and organizing your time". Now it's a question she often receive from medias, if this mean we have another potential DJ, or the next number 1. tennis player?
Speaking about tennis..
Lucca is obsessed athlete with big passion for tennis. Re-charging energy from exhausting weekends and long night shifts she always find in nice tennis game or morning jogging. Not to forget relax and enough sleep.. hehe 😉
Speaking about the future..
Lucca had a year of pregnancy break in 2010, so from early 2011 she strikes back! There are for sure many things we will be able to hear, read and watch. She's working hard.. no doubts! 😉